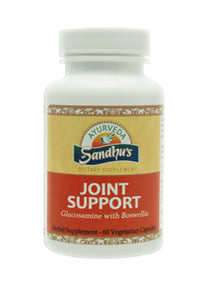 Montgomery Uniforms
Joint Support 60ct - Healthy & Comfortable Joints
Regular price
$12.99
$0.00
Joint support uses effective Ayurvedic herbs combination of Guggul, Boswellia, Triphala and Long Pepper to support healthy joints and comfortable joint function.
Guggul helps improve bone mineralization and supports connective tissue in joints.
Boswellia serrata resin extract is standardized to contain 70% Boswellic Acids. Boswellic Acids are believed to contribute towards benefits of Boswellia as anti-inflammatory substance to reduce pain and inflammation of joints.
Formation of excess leukotrienes in the joints causes inflammation, swelling and pain. One of the Boswellic acids known as AKBA (Acetyl-11-keto- β-boswellic  acid) inhibits an enzyme (5-lipoxygenase) that produces leukotrienes, thereby helps reduce joint pain, inflammation and swelling.
Triphala and Long Pepper support purification and removal of toxins, thereby help joint function. 
Health Benefits:
Supports healthy joints and promotes comfortable joint function
Supports a healthy inflammation response
Standardized to 70% Boswellic acid
100% Vegetarian
Does not contain  Artificial ingredients, fillers, preservatives, stearate or titanium dioxide.
Free of milk, egg, shellfish, wheat, peanuts, corn, gluten and soy. 
Other Ingredients
Vegetarian capsule
Quantity
60 capsules / bottle
Directions of Use
As a dietary supplement, take 2 capsules orally twice a day, or as recommended by your health care professional.
Storage Instructions
After opening, keep the bottle tightly closed in cool and dry place.
Warning
Please consult your physician prior to using any herbal product if you are pregnant, nursing or taking medication, or have a medical condition. Discontinue its use two weeks prior to any surgery.
Keep out of the reach of children.
---
Share this Product
---